Anaxgum Holder
$10.00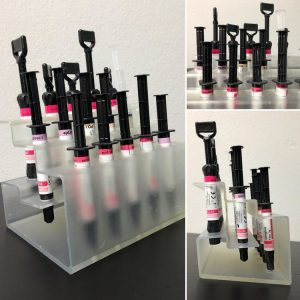 Sold By: Nate Farley, D.D.S.
For anyone using Anaxgum for their pink composite, this is a holder that does some things really well.  It holds the tubes at an angle where you can read the labels more easily.  It also spaces the tubes out so that you can more easily see between them (again, to read those labels).  Designed to print directly on the build platform, including little tabs to increase the surface area (these easily snap off after curing the print).  Hope you enjoy the organization.
Only logged in customers who have purchased this product may leave a review.